Biography
Trending
Bruno Fernandes reveals how Harry Maguire reacted to being stripped of Man Utd captaincy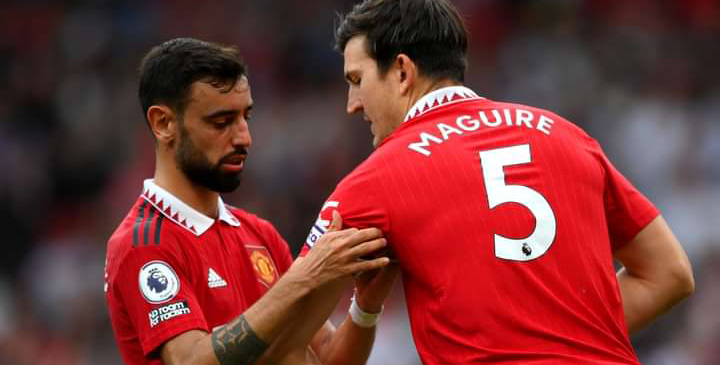 'Not the best' – Bruno Fernandes reveals how Harry Maguire reacted to being stripped of Man Utd captaincy.
Bruno Fernandes claims Harry Maguire was "really happy" for him after being asked to take over captaincy duties at Manchester United.
The most expensive defender in world football has lost his starting position at Old Trafford after last season's drop in the lineup under Erik ten Hag. The 2022–23 season saw Portuguese midfielder Fernandes step in frequently for United when the team needed on-field leadership. Now, Fernandes has been named the team's new captain on a permanent basis. Maguire has acknowledged that he was dissatisfied in that choice, but Fernandes asserts that he can do so with the support of his predecessor.
Fernandes has told reporters when asked about Maguire's reaction to being replaced in a prominent role: "He gave me congratulations and he said he is really happy for me. I understand his position is not the best at the moment. It has to be difficult for him but he came and said congratulations to me and I am happy about that because we have always had a good relationship."
The Portugal international added on Ten Hag calling a team meeting in order to reveal the captaincy call: "He spoke in front of the whole group. He wanted to do it in front of everyone. Everyone already knew about the situation with H [Maguire] but no one knew who would be the next captain so he did it in a team meeting with everyone together because it's something we have to do more often, to keep the things inside and give the compliments inside to ourselves. Obviously it's a big honour and it's something that I didn't dream about. It's over your dreams but it's something for me and my family, because they have been with me all this time, and it's a proud moment for everyone."
Fernandes demands the highest standards of himself and his team-mates, with the 28-year-old playmaker saying he will not reign in his fiery character after being asked to take United's armband. He said of being a big personality in the Red Devils' ranks: "That's why the manager chose me, because of what I was doing last season, the way he wants me to be. He likes the way I work he likes my discipline, he likes everything I give, so I don't see why I should change."