Sports
Trending
West Ham have announced this morning that Declan Rice is leaving them to join this club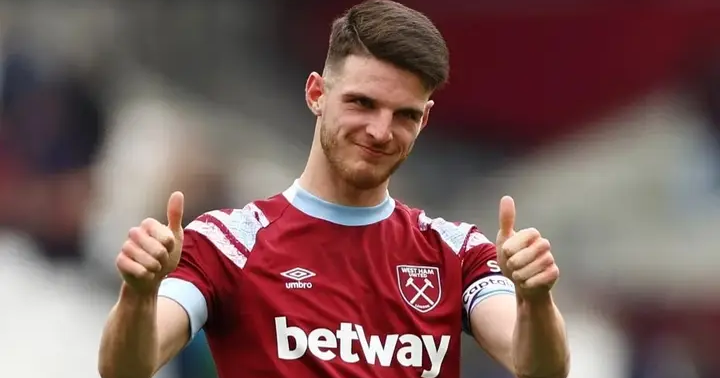 Declan Rice will depart, West Ham's manager says, despite interest from Arsenal in a deal. Bids are expected soon.
Declan Rice will be leaving West Ham United this summer, the club's chairman David Sullivan has essentially announced.
The England international, a prominent player at the London Stadium for the past few years, has been the subject of a lot of rumors.
For some time, it seems inevitable that Rice would land a significant transfer, and according to talkSPORT, Arsenal are currently leading both Manchester United and Bayern Munich in the competition to sign the 24-year-old.
Sullivan has also revealed to talkSPORT that Rice turned down a new contract offer from West Ham and wants to leave this summer.
Meanwhile, Sullivan has also confirmed to talkSPORT that Rice rejected a new contract offer from West Ham and that he wants to move on this summer, with last night's Europa Conference League final win over Fiorentina likely to have been his last game for the club.
When asked if last night could be Rice's last match for the Hammers, Sullivan told talkSPORT: "I think it has to be. We promised him he could go. He set his heart on going.
"You can't ask for a man who has committed more to us this season.
"In due course, he has to get on and we have to get a replacement – or several replacements.
"It's not something we want to happen. We offered him £200,000-a-week 18 months ago. He turned it down.
"It's cost him £10million to stay at West Ham in that time (in lost wages). And he wants to go.
"You can't keep a player who doesn't want to be there."
He added that offers are likely imminent, saying: "I think the offers will start to come today.
"There are three or four clubs who have shown interest, but out of respect to West Ham, while we're still playing, you don't make offers for players.
"That's not the way decent clubs do things."
Arsenal fans will certainly hope things can start moving now and that Rice can become a major statement signing for Mikel Arteta's side as they prepare for life back in the Champions League next season.