Sports
Pep Guardiola explains angry Erling Haaland reaction after Ilkay Gundogan penalty miss for Man City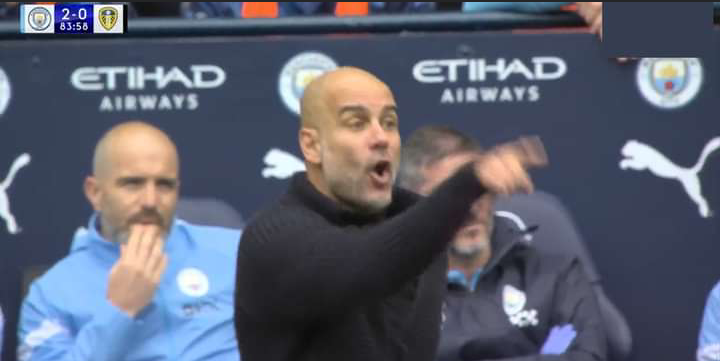 Pep Guardiola told his regular penalty takers Erling Haaland and Riyad Mahrez that they should have pulled rank and taken the kick to express his dissatisfaction with Ilkay Gundogan's failed penalty against Leeds.
With captain Gundogan scoring twice from the 18-yard line, City easily built a two-goal lead over a weak Leeds team in the first half. Particularly when Phil Foden successfully converted the 84th-minute penalty kick, it appeared as though City would easily secure the three points.
But after Gundogan attempted to score his hat-trick and had the ball saved, Leeds scored to set up an unnecessarily tense conclusion. When it came to the penalty, Guardiola was heard telling Erling Haaland, "You have to take it," and he later explained why.
"Who knows if Erling takes the penalty and misses? What happens if Riyad takes the penalty and misses?" Guardiola asked.
"What happens if Ilkay Gundogan takes the penalty and scores? The question is if it's 2-0, who is the taker? The taker is Erling or Riyad, has to take it. Second point is that is shows how is Erling as a person. He wants to score goals, but at the same time the team, the mates are so important.
"He had chances to score, he didn't convert but at the same time, he was outstanding. But at 2-0 especially in England, the game never is over. I wanted the taker to take it, they have more routine and specialist. That means if Erling or Riyad take a penalty, he is going to score? Maybe not. Who knows.
"He is ruthless, but at the same time if Ilkay has never scored a hattrick, he's so generous, so nice. Who knows it, the feeling is he has more confidence right now because he's taken ten or 11 penalties and has the feeling, Gundo doesn't have the feeling. I understand both sides. The game could be over for the chances.
"At 2-0 you have to close it. You don't have to give anything. If you can control you have to control. Saying that, Gundo could have scored, other ones could have missed. It's not about that. I admire that Gundo wanted to take the responsibility to take the penalty. That is the best value as a player. Normally the taker is the taker, Erling has to take it, he's the specialist."
Speaking to Match of the Day, Guardiola said: "The game is not over. It shows how nice and generous Erling is. If it is 4-0 with 10 minutes left, OK. But at 2-0? Erling is the best penalty taker right now so he has to take it.
"Today Erling could have scored two or three goals. He played incredibly well, in his movement and everything… how he fought for us. I like to praise Erling when he does not score. If Gundo scores everyone is 'OK, hat-trick, well done'. But a taker is a taker. At 2-0, this is a business, not a situation where we cannot forget it."